NOCA offers group classes in Pole, as well as a variety of sexy dance classes!
All classes listed on this page are restricted to students age 18+.
Pole Classes
Pole 1 is our beginner pole class, which requires absolutely no previous experience, and is open to all fitness levels, body types, genders, and ages (18+). Heals are permitted but entirely optional. These classes accept circus credits.
Intro to Pole
Low Flow Pole
Pole 1
Pole Conditioning
Pole 2
---
Sexy Dance Classes
These are beginner-friendly, ground-based classes which do not use the poles, but have a "sexy" element to them. These classes accept fitness credits.
Sexy Jazz
Burlesque Props with Gem
Chair Dance
Nutcracker Rehearsal- Fosse (Lobby)
Liquid Motion
Belly Dance
---
Mindy Woodall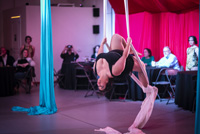 Mindy began her aerial journey in 2014. She took an aerial silks class after seeing a flyer on the ETSU campus. As a theatre student, she had the opportunity to take 2 semesters of aerial dance at ETSU and fell in love with aerial arts. She graduated with a BA in theatre and a BS in chemistry in 2017. She rejoined the NOCA family in 2019 after an extended break to focus on her daughter that was born in 2016. She loves the relationships she's created through the studio and the escape it provides from her day job. She is employed at Nuclear Fuel Services where she is also a part of their emergency response team.
Paige Watson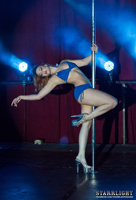 Paige began her pole journey in 2013 when she was driven by a love of dance and movement and decided to take a pole dance class on a whim. After a single private lesson at Sheer Inspiration Pole Fitness in Knoxville, she was hooked. Completely enraptured by the grace, athleticism, and beauty of the sport, Paige began taking classes regularly and competed in her first pole competition less than a year after she began dancing. Her strength and passion for dance blossom whenever she's on stage, and she looks forward to planning more performances in the future. She is thoroughly excited to share her passion for pole with others, hoping they will discover the self-love journey and body positivity that accompany the sport.
Mithra Alavi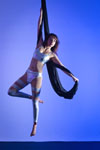 Mithra has been practicing aerial acrobatics and yoga separately for the last 6 years. She decided the perfect way to combine them by was to teach aerial yoga. Mithra furthered her practice by studying and receiving her aerial yoga certification through Levity Aerial Yoga. Her love of flow, teaching, and her constant need to be in the air make aerial yoga the perfect practice for her.
Gem Brulee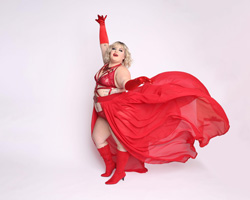 Gem Brulee is a Burlesque performer with seven years of entertaining the Tri-Cities under her garters. The art-form of burlesque freed her to love herself. Now Gem is spreading that love to you, babes.
Eva Alom

Eva started dance at age 3 and has been finding ways to keep moving ever since. She graduated from ETSU with a minor in dance and major in International Affairs. During her time as a student Eva found her choreographer voice, creating works that awarded her the Judith Woodruff Award for Excellence in Dance in 2016. Since graduating, Eva has worked with North East State Community College's theatre department choreographing and movement coaching for multiple stage productions. When she isn't busy working with planes and passengers over at Tri Cities airport, she always finds a way to incorporate dance into her life. Eva wants to empower everyone to use their body to tell their unique story!