Wil Rhew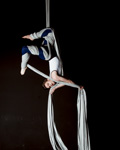 Wil began studying aerial arts after a friend recommended the classes after having taken a course in silks at their university. Having an interest in arts and athletics, he gave the classes a try and was immediately hooked. Wil loves to perform on silks and trapeze and enjoys finding connecting elements between different aerial disciplines.Wil finds technique, strength, and body awareness to be the most intriguing aspects of aerial arts but also the most difficult to master. Outside of the studio Wil has a bachelor's degree in foreign languages with concentrations in French and Spanish from East Tennessee State University and loves cultural studies. Inspired by his instructors and fellow Night Owls, Wil encourages everyone to give aerials a try and be adventurous!
Jen Kintner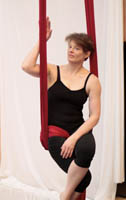 Jen was dragged kicking and complaining to her first dance class, but fell in love instantly, and has been dancing and practicing yoga ever since. She is the Director of Mountain Movers Dance Company, which has been the resident modern dance company at ETSU since 1982. She teaches aerial, modern and dance history at ETSU as adjunct faculty, works full time as a researcher in a Microbiology lab at Quillen College of Medicine, and is the owner of Azure Aerial Arts.

Jen holds a 200 hour certification in Yoga, has trained more than 300 hours with Shiva Rea in Vinyasa yoga techniques and philosophy, and has trained in Jayne Bernasconi's method of aerial yoga. She has 40 years of experience studying, teaching and performing modern dance, and has a foundation teacher training certification in Aerial Fabrics with the New England Center for Circus Arts. She also has a Masters degree in pharmacology and toxicology, just for fun!
Caitlin Leavitt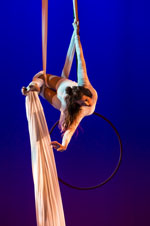 Caitlin's love for aerial started from an Instagram post. She was so mesmerized by it that she instantly went to Google to find a studio in the area that taught aerial silks. She stumbled across Night Owl Circus arts where she signed up for her first class and was immediately hooked. Growing up she always wanted to be a ballerina but was never allowed to take classes. She loved the gracefulness of ballet dancers and envied it as a child. Her favorite thing about aerial is being able to complete complex moves and be graceful while doing them. Caitlin is a mother to two beautiful children: five-year-old Colt, and two-year-old Cora. She hopes they will one day take aerial classes too, and fall in love with aerial like she did. Caitlin works as an Administrative Assistant in the Division of Health Professions at Northeast State Community College.
Samantha Davis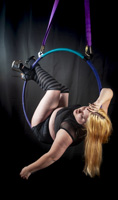 Sam started her journey in 2016 in Asheville, North Carolina. She had always wanted to try out Pole Dance, and so as soon as she could on her own she signed up for class and has basically never left. Since then, Sam has become obsessed with Aerial, Pole, Exotic Movement, and Fitness. Starting her journey at 275 lbs and dealing with severe anxiety issues, she found that movement helped her gain strength, feel confident, and overcome her anxiety. She became a Pole Instructor in 2018 and has loved her job since. Her specialty is Low Flow and Exotic style. She also became a Certified Personal Trainer in 2020. Her goals in life are to help everyone feel their best in their own skin. She strongly believes that circus and fitness are for any body and any gender.
Vianna Isbister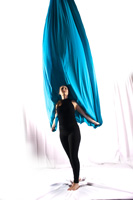 Vianna began training in aerial arts in the summer of 2017 after participating in ETSU's theatrical production of Charlotte's Web. She has trained in aerial silks, lyra, and aerial yoga, along with a smattering of other apparatuses and circus/dance-related techniques. Vianna graduated in 2016 with a Bachelor of Arts in Theatre and minors in Dance and Storytelling from ETSU. Her focus in her dance training has been on dance improvisation, choreography, and aerial dance. She is back at ETSU working on a Master of Arts in Communication and Storytelling Studies. Vianna is passionate about blending multiple performance mediums and uncovering the story that is lurking underneath every piece of art. She is fascinated with blending improvisation into every aspect of life. Vianna enjoys looking at life as though every new opportunity thrown her way is a new opportunity to find a story and create some art. Some other interests include reading everything she can get her hands on (including academic journals), watching excess amounts of Youtube, and tabletop roleplaying games.
Katie Duvall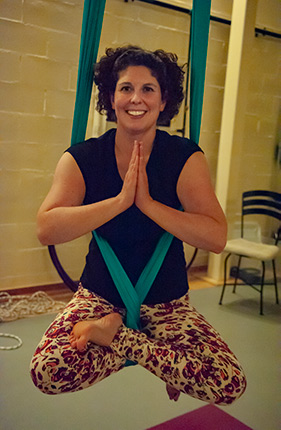 Katie began her yoga journey in the East Tennessee State University Mini Dome many years ago with Jen Kintner. She loved both the challenge and peacefulness a vigorous vinyasa class brought. About three years ago Katie made her new year's resolution to try one new experience per month that put her out of her comfort zone. That year's April out of the comfort zone experience was an aerial yoga class at Azure Aerial Arts Studio. Since then she's embraced the aerial life and become an aerial yoga instructor.
Katie has a Master' degree in Professional Communication, is an Appalachian and women's health scholar, and works as the Research Services Manager at the Department of Pediatrics at East Tennessee State University's Quillen College of Medicine.
Eva Alom

Eva started dance at age 3 and has been finding ways to keep moving ever since. She graduated from ETSU with a minor in dance and major in International Affairs. During her time as a student Eva found her choreographer voice, creating works that awarded her the Judith Woodruff Award for Excellence in Dance in 2016. Since graduating, Eva has worked with North East State Community College's theatre department choreographing and movement coaching for multiple stage productions. When she isn't busy working with planes and passengers over at Tri Cities airport, she always finds a way to incorporate dance into her life. Eva wants to empower everyone to use their body to tell their unique story!
Caroline Daniels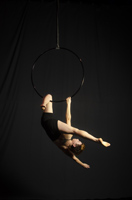 Caroline worked at the Edinburgh Fringe Festival two years ago and accidentally fell head over heels in love with circus. Bernie Dieter's Little Death Club was a whirl of lights, music, cabaret, gin, sword swallowing, and the most mesmerizing trapeze act in the world. When she left that tent, awash in after-show glow and high on magic, she knew she'd found her passion. So, when she arrived back home, one of her friends caught wind that she wanted to learn aerial arts and scooped her up, taught her some basic lyra skills, and sent her on her way to the nearest aerial studio — the purple paradise of Empyrean Arts in Asheville, NC. Caroline has never looked back. She trained in lyra for two years with some forays into acro and sling, team-taught beginner lyra at Warren Wilson College, performed twice with one of her best friends, and created and performed in her own collaborative show — Flying Catastrophe Circus — at the Asheville Fringe Arts Festival. She's working on her masters at ETSU, focusing on social justice-based performance. She's also desperately in love with her two cats - Sirius and Quinn.
Craig Lewis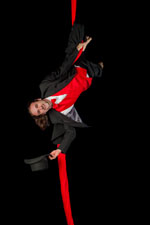 Craig Lewis has been fascinated with circus arts since he taught himself to juggle at age 10. He has since pursued training in aerial arts and juggling through San Francisco Circus Center, Aerial Space in Asheville, NC, and the Aerial Dance program at East Tennessee State University. In 2013, he and Mikaela founded Night Owl Circus Arts in Johnson City, TN, where he enjoys directing performances, and helping people of all fitness levels and backgrounds achieve their goals in circus arts. He has a degree in Digital Media from ETSU, and he is also the owner of Craig Lewis Weddings, where he works as a professional wedding DJ and MC, and CircusDB, where he develops student management software for circus schools and aerial studios.
Photography by
Keith Dixon Studios
,
Elissa Wood Photography
,
Amanda and Chad Photography
.