Katie Duvall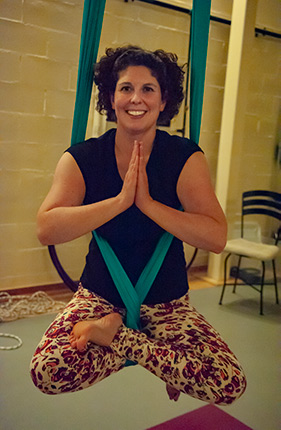 Katie began her yoga journey in the East Tennessee State University Mini Dome many years ago with Jen Kintner. She loved both the challenge and peacefulness a vigorous vinyasa class brought. About three years ago Katie made her new year's resolution to try one new experience per month that put her out of her comfort zone. That year's April out of the comfort zone experience was an aerial yoga class at Azure Aerial Arts Studio. Since then she's embraced the aerial life and become an aerial yoga instructor.
Katie has a Master' degree in Professional Communication, is an Appalachian and women's health scholar, and works as the Research Services Manager at the Department of Pediatrics at East Tennessee State University's Quillen College of Medicine.
Craig Lewis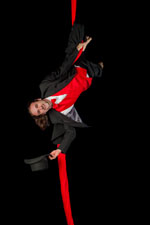 Craig Lewis has been fascinated with circus arts since he taught himself to juggle at age 10. He has since pursued training in aerial arts and juggling through San Francisco Circus Center, Aerial Space in Asheville, NC, and the Aerial Dance program at East Tennessee State University. In 2013, he and Mikaela founded Night Owl Circus Arts in Johnson City, TN, where he enjoys directing performances, and helping people of all fitness levels and backgrounds achieve their goals in circus arts. He has a degree in Digital Media from ETSU, and he is also the owner of Craig Lewis Weddings, where he works as a professional wedding DJ and MC, and CircusDB, where he develops student management software for circus schools and aerial studios.
Wil Rhew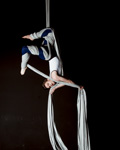 Wil began studying aerial arts after a friend recommended the classes after having taken a course in silks at their university. Having an interest in arts and athletics, he gave the classes a try and was immediately hooked. Wil loves to perform on silks and trapeze and enjoys finding connecting elements between different aerial disciplines.Wil finds technique, strength, and body awareness to be the most intriguing aspects of aerial arts but also the most difficult to master. Outside of the studio Wil has a bachelor's degree in foreign languages with concentrations in French and Spanish from East Tennessee State University and loves cultural studies. Inspired by his instructors and fellow Night Owls, Wil encourages everyone to give aerials a try and be adventurous!
Jen Kintner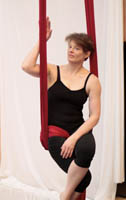 Jen was dragged kicking and complaining to her first dance class, but fell in love instantly, and has been dancing and practicing yoga ever since. She is the Director of Mountain Movers Dance Company, which has been the resident modern dance company at ETSU since 1982. She teaches aerial, modern and dance history at ETSU as adjunct faculty, works full time as a researcher in a Microbiology lab at Quillen College of Medicine, and is the owner of Azure Aerial Arts.

Jen holds a 200 hour certification in Yoga, has trained more than 300 hours with Shiva Rea in Vinyasa yoga techniques and philosophy, and has trained in Jayne Bernasconi's method of aerial yoga. She has 40 years of experience studying, teaching and performing modern dance, and has a foundation teacher training certification in Aerial Fabrics with the New England Center for Circus Arts. She also has a Masters degree in pharmacology and toxicology, just for fun!
Photography by
Keith Dixon Studios
,
Elissa Wood Photography
,
Amanda and Chad Photography
.