Craig Lewis
Owner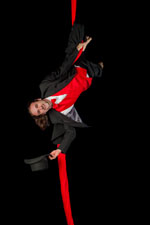 Craig Lewis has been fascinated with circus arts since he taught himself to juggle at age 10. He has since pursued training in aerial arts and juggling through Aerial Space in Asheville, NC, and the Aerial Dance program at East Tennessee State University (ETSU). In 2013, he founded Night Owl Circus Arts in Johnson City, TN, where he enjoys teaching Aerial Silks, Juggling, and Acro. During the pandemic 2020 he began teaching a monthly Aerial Rigging Fundamentals class over Zoom, which has become very popular. He is very active in the juggling community, and serves as the Festival Site Director for the International Jugglers' Association (IJA). He is also a member of the Board of Directors of American Circus Educators (ACE), where he serves on the Safety Committee, and the Insurance Committee. He has a degree in Digital Media from ETSU, where today he works as a fitness instructor for the campus gym. He runs several other businesses, including a hot sauce business (Night Owl Spice), a mobile DJ business, and a circus school management software business. He enjoys international cooking, rock climbing, caving, and making hot sauce with his beautiful wife Mikaela.
Vianna Isbister
Studio Manager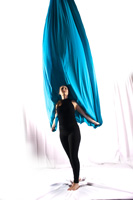 Vianna began training in aerial arts in the summer of 2017 after participating in ETSU's theatrical production of Charlotte's Web. She has trained in aerial silks, lyra, and aerial yoga, along with a smattering of other apparatuses and circus/dance-related techniques. Vianna graduated in 2020 with a Bachelor of Arts in Theatre and minors in Dance and Storytelling from ETSU. Her focus in her dance training has been on dance improvisation, choreography, and aerial dance. She is back at ETSU working on a Master of Arts in Communication and Storytelling Studies. Vianna is passionate about blending multiple performance mediums and uncovering the story that is lurking underneath every piece of art. She is fascinated with blending improvisation into every aspect of life. Vianna enjoys looking at life as though every new opportunity thrown her way is a new opportunity to find a story and create some art. Some other interests include reading everything she can get her hands on (including academic journals), watching excess amounts of Youtube, and tabletop roleplaying games.
Samantha Sander
Performance Company Director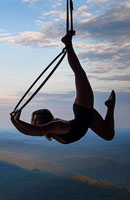 Samantha began her aerial journey back in 2001 (at age 9) at Xelias Aerial Arts, a MN-based studio founded by Ringling Brothers alumni. In 2006, she advanced to coaching students between the ages of 3 and 68. Xelias has instilled in Samantha a sense that safety and proper technique are the most important foundations to build, and she encompasses this in her approach to all different circus disciplines. While she has dabbled in many apparatuses, her favorites to teach are silks, spanish web, lyra, and aerial partner work. She has attended several biennial nationwide American Youth Circus Organization conventions since 2007, as both a student and an instructor. Samantha has trained under and alongside several graduates of esteemed circus colleges and Cirque du Soleil performers. She has also choreographed many circus college and Circus Smirkus auditions over the years, as well as over 100 unique recital performance pieces for students. Samantha's favorite thing about aerial arts is that there are always new challenges and new successes, no matter your experience level!
Caroline Daniels
Assistant Studio Manager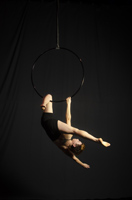 Caroline (they/them) worked at the Edinburgh Fringe Festival four years ago and accidentally fell head over heels in love with circus. Bernie Dieter's Little Death Club was a whirl of lights, music, cabaret, gin, sword swallowing, and the most mesmerizing trapeze act in the world. When they left that tent, awash in after-show glow and high on magic, they knew they had found their passion. When they arrived back home, one of their friends caught wind that they wanted to learn aerial arts and scooped them up, taught them some basic lyra skills, and sent them on their way to the nearest aerial studio. Caroline has never looked back. They have trained in lyra for 4+ years with some forays into acro, sling, spanish web, rope, trapeze, and flexibility. They team-taught beginner lyra at Warren Wilson College, performed a few times with one of their best friends, and created and performed in their own collaborative show — Flying Catastrophe Circus — at the Asheville Fringe Arts Festival in January 2020. Caroline currently teaches at Night Owl Circus Arts and Empyrean Arts. They are working on their second bachelors in theater at ETSU, focusing on production and design. They are also desperately in love with their three cats - Sirius, Quinn, and Bean.
Mindy Woodall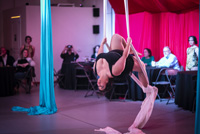 Mindy began her aerial journey in 2014. She took an aerial silks class after seeing a flyer on the ETSU campus. As a theatre student, she had the opportunity to take 2 semesters of aerial dance at ETSU and fell in love with aerial arts. She graduated with a BA in theatre and a BS in chemistry in 2017. She rejoined the NOCA family in 2019 after an extended break to focus on her daughter that was born in 2016. She loves the relationships she's created through the studio and the escape it provides from her day job. She is employed at Nuclear Fuel Services where she is also a part of their emergency response team.
Rachel Broad

Rachel first became interested in Aerial when she had the chance to see a friend's recital in college. She was immediately fascinated by the unique blend of dance and acrobatics in the air and thought it looked like a blast. After moving to the Tri Cities she tried a silks class in 2017 and has been hooked ever since.

Rachel has a masters degree in Linguistics, and minors in Computer Science and Japanese from UNC Chapel Hill. She currently works as a Software Developer and specializes in web development.
Paige Watson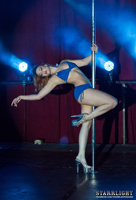 Paige began her pole journey in 2013 when she was driven by a love of dance and movement and decided to take a pole dance class on a whim. After a single private lesson at Sheer Inspiration Pole Fitness in Knoxville, she was hooked. Completely enraptured by the grace, athleticism, and beauty of the sport, Paige began taking classes regularly and competed in her first pole competition less than a year after she began dancing. Her strength and passion for dance blossom whenever she's on stage, and she looks forward to planning more performances in the future. She is thoroughly excited to share her passion for pole with others, hoping they will discover the self-love journey and body positivity that accompany the sport.
Gracie Duggins
Gracie is delighted and grateful to share her love for circus arts with her students and peers at Night Owl Circus Arts. She believes movement is medicine and the synergy in a community of artists and movers is unmatched. Gracie's curiosity to hang upside down began when she explored aerial classes at ETSU where she obtained her Bachelor of Arts in Theatre and Dance. Dance has always provided an outlet for her to search for and share what feels vulnerable and meaningful. Although dancing on the ground was her first love, she prefers to be in the air and has ample gratitude for the strength she has found within her body and her mind throughout her circus journey. Keeping safety and encouragement at the forefront, Gracie teaches a variety of classes at NOCA and would love to work with you!
Eva Alom

Eva started dance at age 3 and has been finding ways to keep moving ever since. She graduated from ETSU with a minor in dance and major in International Affairs. During her time as a student Eva found her choreographer voice, creating works that awarded her the Judith Woodruff Award for Excellence in Dance in 2016. Since graduating, Eva has worked with North East State Community College's theatre department choreographing and movement coaching for multiple stage productions. When she isn't busy working with planes and passengers over at Tri Cities airport, she always finds a way to incorporate dance into her life. Eva wants to empower everyone to use their body to tell their unique story!
Gem Brulee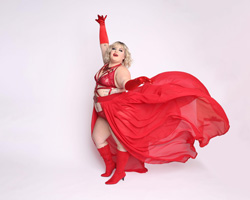 Gem Brulee is a Burlesque performer with seven years of entertaining the Tri-Cities under her garters. The art-form of burlesque freed her to love herself. Now Gem is spreading that love to you, babes.
Jenavieve Dance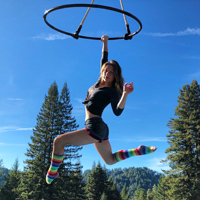 Jenavieve Dance is a professional aerialist, circus artist, coach, and former contortionist. She is accomplished in aerial hoop, straps, lyra, silks, trapeze and enjoys playing on the rope and Spanish web. After running away with the circus at 16 to debut a duo Lyra act, she managed to turn a humble hobby into a full-blown career. From pounding stakes to performing for hundreds Jenavieve has now spent almost a decade honing her craft and sharing her passion for circus arts with others.
Laina Fesenmeyer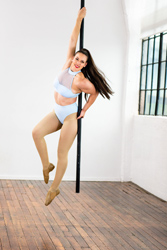 As a child Laina spent many of her summer days under the big top in Europe with her family. She quickly fell in love with traditional circus and shortly after retiring from gymnastics in her teenage years, she began training aerial silks. She attended the University of Kentucky where she studied Exercise Science. After college, Laina moved to Vermont to train full time at the New England Center for Circus Arts in their Professional Track program where she specialized in straps and aerial pole. In 2021, Laina got hired to perform as an aerialist for a residential equestrian theater in Wisconsin. Laina is currently finishing her Masters in Occupational Therapy, and then she plans on going back to performing full time!
Tori Bailey
Tori Bailey began her Flexibility-Contortion journey in 2018 after sampling different classes at Empyrean Arts where she now teaches. Since diving into contortion she has developed a passion to share the accessibility of flexibility and value of exploratory movement to others. When she's not being bendy, she is working in her art studio, tending to plants, traveling, or at home with her two kitties. Tori is very excited to share with others how to connect to their body through flexibility and contortion!
Katie Duvall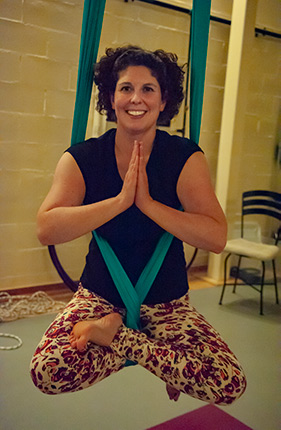 Katie began her yoga journey in the East Tennessee State University Mini Dome many years ago with Jen Kintner. She loved both the challenge and peacefulness a vigorous vinyasa class brought. About three years ago Katie made her new year's resolution to try one new experience per month that put her out of her comfort zone. That year's April out of the comfort zone experience was an aerial yoga class at Azure Aerial Arts Studio. Since then she's embraced the aerial life and become an aerial yoga instructor.
Katie has a Master' degree in Professional Communication, is an Appalachian and women's health scholar, and works as the Research Services Manager at the Department of Pediatrics at East Tennessee State University's Quillen College of Medicine.
Mithra Alavi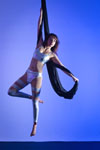 Mithra has been practicing aerial acrobatics and yoga separately for the last 6 years. She decided the perfect way to combine them by was to teach aerial yoga. Mithra furthered her practice by studying and receiving her aerial yoga certification through Levity Aerial Yoga. Her love of flow, teaching, and her constant need to be in the air make aerial yoga the perfect practice for her.
Jenna Eason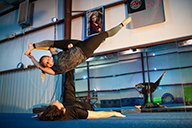 Jenna is a North Carolina native, with an extensive history of competing and performing in cheerleading, gymnastics, dance and theatre. After moving to New England in 2009, she was diagnosed with fibromyalgia and found it extremely difficult to participate in any physical activity. That was, until she found Yoga. Her body and mind began to heal, almost instantly. Initially, she focused on Ashtanga, and gradually began adding Flow, Yin, and Restorative classes to her routine. She also began training in AcroYoga, at Maya Movement Arts in Greenville, SC, which has become her passion. Wanting to take her yoga practice to the next level, she completed her RYT-200 yoga teacher training at Downtown Yoga Center in Johnson City. When Jenna moved to the Tri-Cities in 2016, she knew she had to find an outlet for Acro. Through work and personal travel, she was able catch workshops, classes and jams around the country. And in 2017, she began co-offering workshops locally, through NOCA and DYC. She is thrilled to be a part of the founding Tri-Cities AcroYoga community and looks forward to seeing you at our weekly NOCA classes!
Photography by
Keith Dixon Studios
,
Elissa Wood Photography
,
Amanda and Chad Photography
.