Lauren Wirick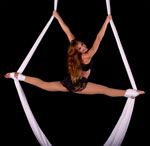 Lauren Wirick has enjoyed performing on stage through dance, drama, singing, and playing instruments since the age of 6. Fulfilling her childhood dream of running away with the circus, she started training on aerial silks in 2010 through Anti-Gravity and Orlando Aerial Arts. Training under artist director, Jennifer Drabik Pierce, her aerial experience expanded through various art forms including lyra, cube, Spanish web, hammock, and aerial partnering and synchro acts in addition to aerial silks. She enjoyed teaching her love and passion in the aerial art form at Orlando Aerial Arts and performing through Suspended Artistry Performance Company professionally for community events, including Give Kids the World, Microsoft, Power-Gen International, and Red Chair Affair. She also enjoyed performing through dance with Central Florida Community Arts. Lauren continues her passion with teaching aerial choreography, lyra, and silks at Night Owl Circus Arts. She loves character performances as well as deep emotional pieces that engage the crowd to feel what she is performing and invite them in to the story she is telling. Lauren has recently added acro yoga to her list of skills and hopes to incorporate this onto the stage as a beautiful art form.
Katie Duvall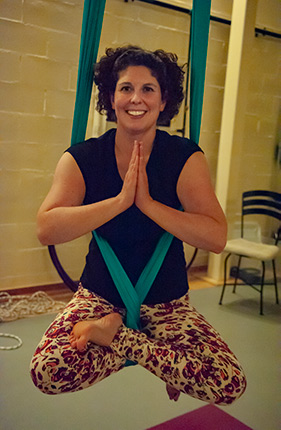 Katie began her yoga journey in the East Tennessee State University Mini Dome many years ago with Jen Kintner. She loved both the challenge and peacefulness a vigorous vinyasa class brought. About three years ago Katie made her new year's resolution to try one new experience per month that put her out of her comfort zone. That year's April out of the comfort zone experience was an aerial yoga class at Azure Aerial Arts Studio. Since then she's embraced the aerial life and become an aerial yoga instructor.
Katie has a Master' degree in Professional Communication, is an Appalachian and women's health scholar, and works as the Research Services Manager at the Department of Pediatrics at East Tennessee State University's Quillen College of Medicine.
David Waruszewski
David Waruszewski has always had a passion for artistic expression, and this has guided his work as an expert hair stylist and colorist for more than a decade. Through David's inclusive hula hooping classes, his ability to elevate and support others extends beyond the salon. His students can step into a space where movement and meditation are married to provide a whole body wellness experience. Hooping has provided David with an outlet for many years and ensures he still enjoys moments when body and spirit connect. He is excited to encourage and share with others the benefits of hooping at Night Owl Circus Arts.

Alongside his passion for the hair industry, hooping and continuing education, David's interests include traveling, hiking and tending to his house plants. He also enjoys attending yoga classes and spending time with his husky, Malaya. He is currently pursuing yoga teacher training, and is excited to get you moving!

One thing is true for all of David's work: What he offers to his clients and students comes from a place of caring and compassion.
Jenna Eason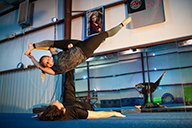 Jenna is a North Carolina native, with an extensive history of competing and performing in cheerleading, gymnastics, dance and theatre. After moving to New England in 2009, she was diagnosed with fibromyalgia and found it extremely difficult to participate in any physical activity. That was, until she found Yoga. Her body and mind began to heal, almost instantly. Initially, she focused on Ashtanga, and gradually began adding Flow, Yin, and Restorative classes to her routine. She also began training in AcroYoga, at Maya Movement Arts in Greenville, SC, which has become her passion. Wanting to take her yoga practice to the next level, she completed her RYT-200 yoga teacher training at Downtown Yoga Center in Johnson City. When Jenna moved to the Tri-Cities in 2016, she knew she had to find an outlet for Acro. Through work and personal travel, she was able catch workshops, classes and jams around the country. And in 2017, she began co-offering workshops locally, through NOCA and DYC. She is thrilled to be a part of the founding Tri-Cities AcroYoga community and looks forward to seeing you at our weekly NOCA classes!
Justin Rayna

Justin Rayna is an award-winning percussionist, composer, producer, pianist, performer, choreographer, stunt man, acrobat, tumbler, husband and father. Justin began tumbling when he was eight years old. His coaching career began in 2000 immediately after high school. Through the years, Justin has coached for a number of gyms in Pennsylvania, Tennessee, and Louisiana, teaching everything from preschool gymnastics to cheer-tumbling to USAG Level 10. He even directed several artistic tumbling and acrobatic show teams. His forte is specifically tumbling, and he has been the Tumbling Program Director for both Louisiana Athletics and East Tennessee Cheer and Gymnastics where he was responsible for designing and implementing a complete progressive tumbling program. Justin also has a love for music and went to school for music theory and composition. He graduated from McCaskey high school in 2000, having won the Louis Armstrong Jazz Award for recording and independently releasing his own solo piano albums. In 2005 he established a custom music business, composing original music for competitive gymnasts, dancers, weddings, you name it. He has also marched for Drum Corps International, winning the 2001 Garden State Circuit snare solo competition, and has been featured in many percussion, acrobatic, and cirque-esque shows at various theme parks such as Hershey Park in PA and Dollywood in TN as well as performing for Bayou Cirque in LA. In 2018, he produced his own full-length dance and acrobatic concert titled INTENSIFY for his debut album of the same name. His theater experience makes him a very animated, high-energy coach, having a great rapport with athletes of all ages.

Justin is happily married to his wife Sarita. Together they have three children: Alaysia, Judah, and Malachi, and he is currently pursuing his degree in Theatre Design and Production at ETSU.
Jennifer Hilliard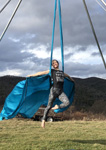 Jennifer has been into health and fitness for over 15 years and is always learning new information on her journey. She has had a lifelong passion for acrobatics and gymnastics and has had the pleasure of working with children at the YMCA and other studios teaching them skills for over eight years. She first discovered Aerial Arts When she took her son to a class and wanted to give it a try for herself. She's been hooked on it ever since. She started learning the Silks and Lyra in 2013. Then began teaching soon after at the Dance Centers of Orlando with Albena Aleksandrova who is currently a professional performer. She then went on to teach at East Coast Performing Arts in DeBary, Fl. where she and her son taught children and adults how to sharpen their skills on the silks and Lyra. She loves being able to share this passion with others and help people of all ages to stay fit by doing something they love. In her free time she loves to exercise, learn about health and nutrition and continue to practice on the Silks and Lyra. She recently relocated to Tennessee a year ago and was thrilled to discover NOCA and have the privilege to continue learning and teaching.
Jen Kintner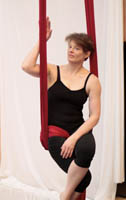 Jen was dragged kicking and complaining to her first dance class, but fell in love instantly, and has been dancing and practicing yoga ever since. She is the Director of Mountain Movers Dance Company, which has been the resident modern dance company at ETSU since 1982. She teaches aerial, modern and dance history at ETSU as adjunct faculty, works full time as a researcher in a Microbiology lab at Quillen College of Medicine, and is the owner of Azure Aerial Arts.

Jen holds a 200 hour certification in Yoga, has trained more than 300 hours with Shiva Rea in Vinyasa yoga techniques and philosophy, and has trained in Jayne Bernasconi's method of aerial yoga. She has 40 years of experience studying, teaching and performing modern dance, and has a foundation teacher training certification in Aerial Fabrics with the New England Center for Circus Arts. She also has a Masters degree in pharmacology and toxicology, just for fun!
Logan Combs
Logan likes to describe himself as a wandering adventurer. In 2009 he picked up his first set of poi with aspirations of one day becoming a fire dancer. In 2011, that goal was met when he joined with a local circus in Greeneville, South Carolina. Since then, he has traveled all over the country for performances and to teach poi to all students of all ages, and learn from the local flow artists in the area. He's excited to share what he knows with the people of the Tri-Cities to the help spread of flow arts in eastern Tennessee.
Craig Lewis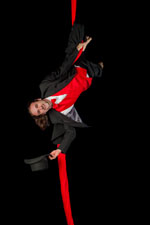 Craig Lewis has been fascinated with circus arts since he taught himself to juggle at age 10. He has since pursued training in aerial arts and juggling through San Francisco Circus Center, Aerial Space in Asheville, NC, and the Aerial Dance program at East Tennessee State University. In 2013, he founded Night Owl Circus Arts in Johnson City, TN, where he enjoys directing performances, and helping people of all fitness levels and backgrounds achieve their goals in circus arts. He has a degree in Digital Media from ETSU, and he is also the owner of Craig Lewis Weddings, where he works as a professional wedding DJ and MC, and CircusDB, where he develops student management software for circus schools and aerial studios.
Caitlin Leavitt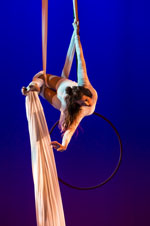 Caitlin's love for aerial started from an Instagram post. She was so mesmerized by it that she instantly went to Google to find a studio in the area that taught aerial silks. She stumbled across Night Owl Circus arts where she signed up for her first class and was immediately hooked. Growing up she always wanted to be a ballerina but was never allowed to take classes. She loved the gracefulness of ballet dancers and envied it as a child. Her favorite thing about aerial is being able to complete complex moves and be graceful while doing them. Caitlin is a mother to two beautiful children: five-year-old Colt, and two-year-old Cora. She hopes they will one day take aerial classes too, and fall in love with aerial like she did. Caitlin works as an Administrative Assistant in the Division of Health Professions at Northeast State Community College.
Wil Rhew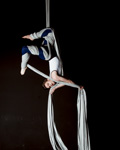 Wil began studying aerial arts after a friend recommended the classes after having taken a course in silks at their university. Having an interest in arts and athletics, he gave the classes a try and was immediately hooked. Wil loves to perform on silks and trapeze and enjoys finding connecting elements between different aerial disciplines.Wil finds technique, strength, and body awareness to be the most intriguing aspects of aerial arts but also the most difficult to master. Outside of the studio Wil has a bachelor's degree in foreign languages with concentrations in French and Spanish from East Tennessee State University and loves cultural studies. Inspired by his instructors and fellow Night Owls, Wil encourages everyone to give aerials a try and be adventurous!
Stephanie Roberts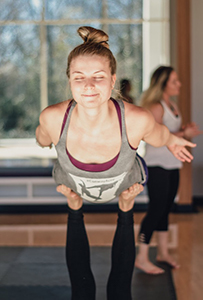 Stephanie Roberts first tried AcroYoga in the fall of 2014 after being persuaded to stay late one evening after a yoga class. It didn't take long before she became hooked, and co-founded an AcroYoga student organization at the University of Arkansas. She received her RYT-200 yoga teacher training the summer of 2016, and has been passionate about sharing the wonderful world of yoga and AcroYoga ever since. She moved to Tennessee from Arkansas spring in the spring of 2017, and now teaches at Great Body Company, the YMCA of Kingsport, the Kingsport Ballet, and Night Owl Circus Arts. Bringing Acro to the Tri-Cities has been one of her main goals since moving here, and she is honored to be a part of the AcroYoga movement in East Tennessee! She absolutely loves being able to teach the two things she is most passionate about, and she loves sharing the experience of flying with others! Acro allows you to build a new kind of trust with people, and enables you to let go of the negative stigma that our society assigns to touch and personal space. Acro provides a safe environment for you to grow as a person, as well as grow within a community.
Photography by
Keith Dixon Studios
,
Elissa Wood Photography
,
Amanda and Chad Photography
.