Aerial Silks FAQ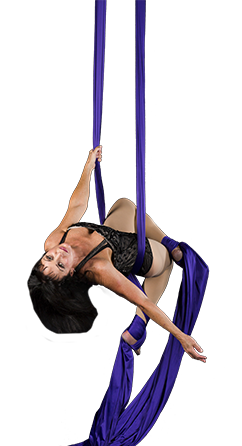 I want to take a silks class, but I have no upper body strength! Is that ok?
We get this question ALL the time. You're not alone. And yes, it is completely ok! The vast majority of new students that we get in our classes don't have a lot of upper body strength when they start out. We start off with easy moves that don't require a whole bunch. We keep our class sizes very small, so that we can personalize our lessons plans for each student, and everyone can progress at their own rate. A lot people are intimidated by the idea of trying out an aerial class. But I promise, you can do it!
I want to take a silks class, but I'm scared! Is it safe?
Our classes have a very strong emphasis on safety. There is, of course, an element of risk to any physical activity, but we take safety very seriously, and minimizing risk is our top priority. All students work over an 8-inch crash mat at all times. All beginner moves are done very low to the ground. As you become more advanced, we will slowly start taking moves higher as you get comfortable, but we never push anyone to do this before they're ready. We also encourage students to be an active player in their own safety. That means, if we ask you to do something that you don't feel safe doing, then don't do it, and talk to your instructor about it. If you are halfway through a move, and find yourself feeling unsafe, then come on down. That's always OK in our classes! It's also always acceptable to wait for us to come and spot you before you do something. Our instructors typically walk around the room throughout the class spotting everyone one at a time, so if you don't want to do it by yourself, just wait and we'll come around and help you. There are certain moves where we'll specifically ask everyone to wait for a spot. We keep our class sizes very small, so that we can personalize my lessons plans for each student, and everyone can progress at their own pace, and we can spend a lot of time with each student.
I'm afraid of being embarrassed. Everyone's going to be better than me, aren't they?
We get this question a LOT, so rest assured that other new students in the class with you are probably thinking the same thing! We work with each student individually, so it doesn't matter at all if people are at different skill levels. We strive to create a non-competitive, judgement-free, positive environment in our classes. Never compare yourself to other students; everyone learns at a different pace, and that is completely OK and normal in an aerial class! This is exactly the reason that we keep most of our classes on a drop-in basis instead of a series; it allows each student to progress at their own pace, and not worry about "keeping up" with the other students.
I'm bigger-bodied. Is that ok? Will those silks hold me?
Another question we get all the time! Let's get that second part out of the way: Yes, they will hold you! The silks themselves have a breaking strength of around 3,000 pounds. So no, there is no "weight limit" on our classes. Being heavier may make certain elements of the experience different, but our instructors are trained in how to accomodate bigger bodied students in a supportive, body-positive environment. We also keep our class sizes very small so that we can work individually with each student, and everyone can progress at their own pace. The best advice I can give you is, just come try it out and see if you like it! The moves we do in the first few classes, while I don't want to say they're "easy", they are intended to be attainable for just about anyone with a little practice and determination.
What age ranges can take your class?
On the lower end: Our kids class is open to ages 7-14. Our adult classes are open to ages 14+. 14-year-olds have the option of either class. The majority of the students in our students are adults.

On the upper end: There is no firm age limit. We work with students of all ages! You'll definitely want to talk to your instructor about any injuries or relevant medical conditions that you have. For more info regarding injuries, see the next question:
I have an injury, medical condition, or disability. Can I take your class?
Call us, let's talk! We definitely try our best to work with people who have injuries, medical conditions, or disabilities. We're not doctors, so if you ask us whether it's safe for you to take our class, in some cases we may be unqualified to answer that question. You should ask your doctor. But, pending their approval, come try it out! Definitely talk to us about your injuries ahead of time. In some special cases, if you call us, we'll set up a time when we can meet privately at the studio, and we'll give you a little 10 minute "free preview" of some of the stuff we do in class, for the purpose of evaluating whether these classes will be good for you. Regardless of whether you do this, or take a regular class, we make our absolute best effort to work within anyone's physical abilities, and we keep our class sizes small, which allows us to work with each student individually at their own pace.
How long does it take to get "really good"?
This is a very difficult to answer, mainly because everyone is different. Also, everyone's definition of "really good" is different. One big factor in how quickly you will progress is how frequently you take classes. If you come to our classes once a month, you're very likely to find progress slower. You'll find yourself having to re-learn a lot of basic moves each time you come in. On the other hand, if you come in twice a week, you will progress much faster. That's not to say that there's anything wrong with taking class once a month - it just entirely depends on what your goals are. Cross-training is also a great way to speed up your progress! Things like yoga, pilates, weight lifting, rock climbing, gymnastics, dance, and martial arts are excellent ways to build strength, flexibility, cardio endurance, and body awareness! We can also show you exercises in class that you can do at home without any equipment, and if you can even dedicate 15 minutes a day to doing these exercises at home, that will make a huge difference! Our Strength and Flex class is also a great way to build strength, and will help you progress much faster.
What are the class rules?
What should I wear for class?
There is one important requirement: No metal parts, such as zippers, buttons, clasps, etc. Very small piercings are ok, but larger piercings must be removed because they can get caught in the silks. If you have an exposed surface piercing, you should wear a bandaid over it.
Other than that, skin tight clothing is definitely recommended - something that will stay in place when you hang upside-down. Most people prefer to have clothing that covers the backs of their knees and armpits, but this is not required. Tights, yoga pants, or unitards work great. As you become more advanced and start working on drops, you will need to avoid clothing made of synthetic materials, which can melt. This is not an issue for beginners, although we do find that cotton clothes tend to give more friction on the silk than synthetics, which is good for beginners; but again, that's personal preference.
What is open gym?
Open gym is a time for our students to freely use the equipment to practice skills on their own which they have learned in our classes. Open gym is a lot of fun, and it's a great way to progress your skills, and make new friends! To attend open gym, you must have taken at least 10 NOCA aerial classes on your chosen apparatus, with the most recent being in the past 30 days, as well as instructor permission. Teaching during open gym is not permitted - it's intended as a time for practicing moves you already learned from us. Trying moves you saw online is also, as always, not permitted, as it can be very dangerous. Also, you must be trained on the specific apparatus you want to use. Ie. if you've only taken silks classes, you can't use the lyra at open gym. Open to ages 16+
Do any classes have pre-reqs?
If a class has pre-reqs, they will be listed in the
class description
. If none are mentioned, then the class is absolutely beginner friendly and open to anyone!
Can I get my own silks and set them up at home?
We very strongly discourage this for many safety reasons. First, there is a high level of training and experience that is necessary before you should consider training aerial arts without the direct supervision of an experienced aerial instructor. Aerial arts are very safe when practiced correctly, but can quickly become extremely dangerous if you don't know what you're doing, and it takes longer than you think to learn all the hidden dangers. Also, homes generally don't have the proper construction to support aerial rigging. Homes are constructed out of 2x4s, which are extremely strong in compression, but can easily break under the dynamic tension forces we create with aerial arts. Aerial rigging is a highly technical and specialized skill set. It is NOT the same skill set as rock climbing, entertainment rigging, overhead lifting, construction, or structural engineering. If you rig in your home, you're going to need to first consult with a structural engineer, and then an aerial rigger. Typically you'll be faced with a major construction project, and it's not going to be cheap or easy. You're far better off spending a tenth that amount of money on classes to better your skills in a safer environment at a professional aerial studio such as NOCA. For a much more in-depth discussion of the topic of home aerial rigging, take a look at
this PDF from Steven Santos of Simply Circus
.
Do we get to perform?
Night Owl Circus Arts does have a performance company! We generally do two big in-house student showcases per year at NOCA South. We guide our students through the process of creating a routine and preparing for a performance. It's an amazing experience! Let your instructors know if this is something you're interested in working towards.
If your question wasn't answered here, give us a call or text at
(423) 212-6622
!