Aerial Photoshoots by Craig Lewis
Upcoming Public Photoshoot Dates:
A $20 discount available to anyone with an unlimited subscription, NOCA instructors, and ACE/AYCO members.
Who is this for?
Our NOCA photoshoots are open to all NOCA students, as well as all members of the wider aerial and circus community! Almost all aerial, circus, or pole disciplines are welcome, including ground-based acts such as juggling, dance, hand balancing, or contortion. We have most common aerial apparatuses available in-house, or you can bring your own equipment if you prefer. For the pole folks, we have both 45mm x 10 ft stainless steel X-Poles, and an X-Stage with a 45mm brass pole. Please contact me ahead of time if you plan to do pole.
What is included?
You will get a semi-private 1-hour photoshoot, shared with one other person. During your photoshoot, you'll be in front of a very large black or white backdrop, and will be able to choose from any apparatus and color that we have available in the studio, or bring your own apparatus. If you bring your own equipment, we will start with an equipment safety inspection when you arrive. The rig point is 21 feet tall, and on a 2:1 pulley system, allowing us to move you up or down during the shoot when needed.
In addition to myself, there will be a NOCA aerial instructor there to assist you if needed. For advanced, regular NOCA students who have done a few photoshoots before, I sometimes don't schedule an additional instructor to be present. If you think you might fit into this category, but would still like an instructor present, just let me know, and I will arrange this at no additional cost to you!
How does it work?
I do most photoshoots as one-hour blocks split between two people. This allows you plenty of time to rest while the other person is up. We recommend arriving at least 15 minutes before your shoot so you have time to warm up. There will generally be an aerial instructor other than me present in the room to assist where needed. For advanced, regular NOCA students who have done photoshoots before, I sometimes don't schedule an additional instructor to be present. If you think you might fit into this category, but would still like an instructor present, just let me know, and I will arrange this at no additional cost to you! Photoshoots vary in their backdrop and setting. For most regular scheduled shoots, I alternate between a black or white backdrop for each photoshoot. On occasion, I offer outdoor photoshoots. If you have a strong preference on backdrop color, or want to do an outdoor photoshoot, contact me at info@NightOwlCircusArts.com.
Step 1: Pick a date from the list above, and sign up and pay through our website.
Step 2: Send an email to info@NightOwlCircusArts.com and let me know:

Your preferred aerial apparatus AND color (or let me know if you'll be bringing your own equipment)
Any preference on photoshoot partner
Any scheduling restrictions you might have for the day of your shoot
Any other special requests you might have (privacy requests, extra time, any special rigging requests, instructor assistance needed, etc)

Step 3: About one week before your shoot, I will send out an email that will tell you your tentative assigned timeslot and partner. These details are flexible, so if you want any changes to your timeslot or partner, just let me know and I can generally accommodate this!
Step 4: Arrive about 15 minutes early to warm up. Come prepared with at least a vague plan of what moves you'd like to do. We recommend against wearing black clothing for a photoshoot with a black backdrop!
Tell me about the gear!
Great studio photography requires great equipment in the hands of someone with a deep technical understanding of how that gear works. It also requires artistic skills, communication skills, and so much more! Gear is only half the equation - but it is important, so here are some basic technical specs of the equipment I use during photoshoots:
Ceiling height:
21 feet
Rig point:
Pulley system with 2:1 MA, swivel
Studio Floor:
Gray marley over hardwood
Crash Mats:
8" thick, 5'x10'
Backdrops:
20'x20', black, white, or gray
Cameras:
Nikon D7000, 28-300mm lens
Nikon D700, 17-70mm lens
Flashes:
Up to 5 wireless external flash units, 4 softboxes
Can I do a private or custom photoshoot?
Absolutely! If your photoshoot will have special needs that don't fit within our public photoshoots described above - or maybe you're travelling from out of town for this, and want to have more time available - I can customize a photoshoot to meet almost anyone's needs!
For a completely private photoshoot, prices start at $250 base price + $100 / hour. This gets you the studio completely to yourself, your choice of backdrop, and the option to have an additional aerial instructor (other than me) present to assist. Come alone, or bring a few friends!
Looking to shoot professional video footage for a circus demo reel or audition tape, or just for personal use? This is also something I can help you with!
Can you travel for a photoshoot?
Yes, I do travel! You can bring me to your studio to do a photoshoot for your students! Flexible revenue sharing options are available. Contact me for pricing at info@NightOwlCircusArts.com.
Portfolio:
Models pictured above: Ashley Browning, Samantha Davis, Gem Brulee, Mindy Woodall, Lydia Tewksbury, Travis Wolven, Sarah Summers, Vianna Isbister, Brittany Bales, Caroline Daniels, Mars Desjardins, Tasha Adams, Abby Freeburn, Caitlin Leavitt, Rachel Broad, Chyanne Gobble
A Few Behind the Scenes Photos: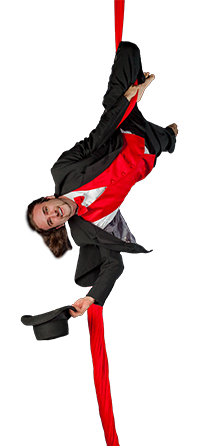 About Craig Lewis
Craig Lewis is a juggler, aerialist, and owner of Night Owl Circus Arts in Johnson City, TN. He teaches classes in aerial silks, acroyoga, juggling, and aerial rigging. He has 12 years of experience as an aerial silks instructor, and has completed teacher training through both Nimble Arts and Circus Arts Institute.
He began doing photography at a very young age with his dad, learning to shoot on a Nikon film SLR, and then developing the film in the darkrooom. He also began learning Photoshop starting with version 4 in 1996.
His interest in photography, videography, and design ultimately led him to pursue a bachelors degree in Digital Media from ETSU with a concentration in Interaction, and a minor in Computer Science.
As a photographer today, Craig is focused almost exclusively on studio photography specifically for aerialists. His background as an aerial instructor and rigger makes him specially equipped to handle the highly specialized needs of aerialists in front of the camera.