Meet the Night Owls
Craig Lewis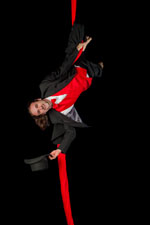 Craig Lewis has been fascinated with circus arts since he taught himself to juggle at age 10. He has since pursued training in aerial arts and juggling through San Francisco Circus Center, Aerial Space in Asheville, NC, and the Aerial Dance program at East Tennessee State University. In 2013, he and Mikaela founded Night Owl Circus Arts in Johnson City, TN, where he enjoys directing performances, and helping people of all fitness levels and backgrounds achieve their goals in circus arts. He has a degree in Digital Media from ETSU, and he is also the owner of Craig Lewis Weddings, where he works as a professional wedding DJ and MC, and CircusDB, where he develops student management software for circus schools and aerial studios.
Wil Rhew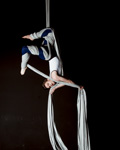 Wil began studying aerial arts after a friend recommended the classes after having taken a course in silks at their university. Having an interest in arts and athletics, he gave the classes a try and was immediately hooked. Wil loves to perform on silks and trapeze and enjoys finding connecting elements between different aerial disciplines.Wil finds technique, strength, and body awareness to be the most intriguing aspects of aerial arts but also the most difficult to master. Outside of the studio Wil has a bachelor's degree in foreign languages with concentrations in French and Spanish from East Tennessee State University and loves cultural studies. Inspired by his instructors and fellow Night Owls, Wil encourages everyone to give aerials a try and be adventurous!
Abby Freeburn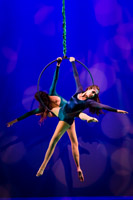 Abby has been training in aerial arts for three years. She loves the challenge that silks provides for her body and mind. She has an associates degree in mathematics from Northeast State Community College. She received her RYT-200 Yoga Teacher Training in Johnson City in 2014, and RYT-500 in India in 2016. She began her aerial training in early 2015 at NOCA, and has also trained at Knoxville Aerial Arts, DragonFly Aerial Arts, Trapeze School of New York, and Empyrean Arts. She is known to be a bit of an adrenaline junkie on the silks, and she loves practicing big drops. Today she teaches classes in aerial yoga, spanish web, silks drops, paddle board yoga, and chair yoga. In her spare time, she loves practicing glass blowing, and travelling to take new yoga and aerial classes. Abby lives at home with her husband, Chris, her two year old daughter Melanie, her dog, Mia, her pig, Wilbur, and a brood of chickens.
Leigh Ann Livingston

Leigh Ann first started aerial silks because she needed a Sunday night workout. She signed up for Craig's silk class and was hooked!! She enjoys the blend of cardio and strength building that aerial arts provides, and it's fun, so it keeps her motivated. She is constantly driven by a desire to learn the many new and beautiful moves that she is taught. She loves all the apparatuses, but her favorite is the lyra.

Leigh Ann is an osteopath, and works as a hospital physician. She has two hyperactive doodles that she tries to keep out of trouble!
Mikaela Lewis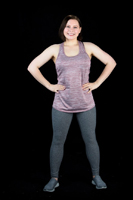 Mikaela is the owner of Night Owl Circus Arts and Cirque Regalia (circus merchandise vendor). She is also a professional designer and marketer. She is a proud ETSU Fine & Performing Arts alumni (Art Scholar) and has a Bachelors' in Digital Media (2012) and Master of Arts in New Media (2014). When they first founded NOCA in 2013, Mikaela's goal for NOCA was to always be an inclusive home for all fitness abilities and body types. Mikaela's BMI at the time was 42+. In 2017, she lost over 100lbs, 100% naturally through diet and exercise in 14 months. Regardless of size, Mikaela always believes that circus is for everyone, and NOCA will always be a welcoming and inclusive place for anyone who walks through our doors.
Katie Duvall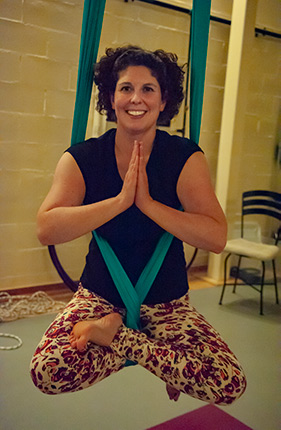 Katie began her yoga journey in the East Tennessee State University Mini Dome many years ago with Jen Kintner. She loved both the challenge and peacefulness a vigorous vinyasa class brought. About three years ago Katie made her new year's resolution to try one new experience per month that put her out of her comfort zone. That year's April out of the comfort zone experience was an aerial yoga class at Azure Aerial Arts Studio. Since then she's embraced the aerial life and become an aerial yoga instructor.
Katie has a Master' degree in Professional Communication, is an Appalachian and women's health scholar, and works as the Research Services Manager at the Department of Pediatrics at East Tennessee State University's Quillen College of Medicine.
Mithra Alavi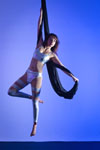 Mithra has been practicing aerial acrobatics and yoga separately for the last 6 years. She decided the perfect way to combine them by was to teach aerial yoga. Mithra furthered her practice by studying and receiving her aerial yoga certification through Levity Aerial Yoga. Her love of flow, teaching, and her constant need to be in the air make aerial yoga the perfect practice for her.
Jen Kintner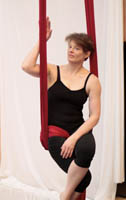 Jen was dragged kicking and complaining to her first dance class, but fell in love instantly, and has been dancing and practicing yoga ever since. She is the Director of Mountain Movers Dance Company, which has been the resident modern dance company at ETSU since 1982. She teaches aerial, modern and dance history at ETSU as adjunct faculty, works full time as a researcher in a Microbiology lab at Quillen College of Medicine, and is the owner of Azure Aerial Arts.

Jen holds a 200 hour certification in Yoga, has trained more than 300 hours with Shiva Rea in Vinyasa yoga techniques and philosophy, and has trained in Jayne Bernasconi's method of aerial yoga. She has 40 years of experience studying, teaching and performing modern dance, and has a foundation teacher training certification in Aerial Fabrics with the New England Center for Circus Arts. She also has a Masters degree in pharmacology and toxicology, just for fun!
Vianna Isbister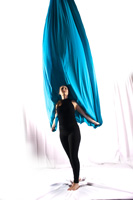 Vianna began training in aerial arts in the summer of 2017 after participating in ETSU's theatrical production of Charlotte's Web. She has trained in aerial silks, lyra, and aerial yoga, along with a smattering of other apparatuses and circus/dance-related techniques. Vianna graduated in 2016 with a Bachelor of Arts in Theatre and minors in Dance and Storytelling from ETSU. Her focus in her dance training has been on dance improvisation, choreography, and aerial dance. She is back at ETSU working on a Master of Arts in Communication and Storytelling Studies. Vianna is passionate about blending multiple performance mediums and uncovering the story that is lurking underneath every piece of art. She is fascinated with blending improvisation into every aspect of life. Vianna enjoys looking at life as though every new opportunity thrown her way is a new opportunity to find a story and create some art. Some other interests include reading everything she can get her hands on (including academic journals), watching excess amounts of Youtube, and tabletop roleplaying games.
Valerie Orfield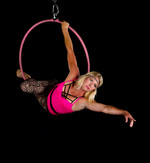 Valerie's first experience with aerial arts was in May 2015, after seeing an advertisement on Facebook. Having competed in road races both on foot and bike, as well as triathlons, aerial arts was far removed from any physical challenge she had ever attempted. Valerie soon determined aerial arts greatly improved her flexibility, while significantly improving upper body strength.

Married with two children, Valerie's family assumed her new circus antics were the result of a pre-midlife crisis. Ever supportive, her family has embraced and encouraged Valerie's aerial interests.

A science teacher by day, Valerie is also pursuing her doctorate in education from Carson Newman University.
Eva Alom

Eva started dance at age 3 and has been finding ways to keep moving ever since. She graduated from ETSU with a minor in dance and major in International Affairs. During her time as a student Eva found her choreographer voice, creating works that awarded her the Judith Woodruff Award for Excellence in Dance in 2016. Since graduating, Eva has worked with North East State Community College's theatre department choreographing and movement coaching for multiple stage productions. When she isn't busy working with planes and passengers over at Tri Cities airport, she always finds a way to incorporate dance into her life. Eva wants to empower everyone to use their body to tell their unique story!
Rebecca Steele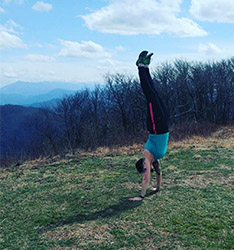 Rebecca has always been interested in gymnastics, but didn't get the opportunity to take classes until October 2015. She has been attending weekly classes since then, and absolutely loves the diversity and challenge that the adult tumbling class offers. She currently has a BS in Sociology, and is working towards a Master's degree in Biology, studying circadian rhythms in cave spiders. She also works full-time at ETSU Quillen College of Medicine as a Laboratory Coordinator in the human gross anatomy lab. Hobbies include hiking, caving, and camping, as well as reading, and science.
Jessica Shelton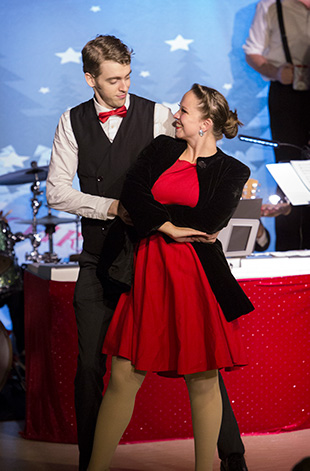 Jessica has been dancing all her life, but took her first ballroom dance lesson as a freshman at ETSU when her future husband asked if she'd be his dance partner. Jessica quickly fell in love with ballroom dancing and has been doing ballroom ever since. She took over the group fitness ballroom dance class at ETSU in 2011 and especially enjoys teaching private lessons for couples to prepare for their wedding's first dance.

Besides ballroom dancing, Jessica also loves aerial dance! She began taking aerial silks classes when they first began at ETSU and has been a member of Night Owl Circus Arts since before there was a studio space, or even a name! She has run the sound for several Night Owl Circus performances and still loves to train aerial when she can. Jessica is also an avid dancer at Jonesborough Repertory Theatre.

Jessica holds a degree in Psychology and Japanese from East Tennessee State University. She lived and taught English in Japan for a year before making her permanent home in Johnson City. She now works as the Property Manager/Personal Assistant for her husband's house flipping company.
Caitlin Leavitt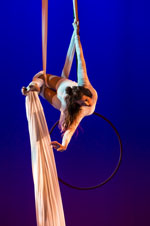 Caitlin's love for aerial started from an Instagram post. She was so mesmerized by it that she instantly went to Google to find a studio in the area that taught aerial silks. She stumbled across Night Owl Circus arts where she signed up for her first class and was immediately hooked. Growing up she always wanted to be a ballerina but was never allowed to take classes. She loved the gracefulness of ballet dancers and envied it as a child. Her favorite thing about aerial is being able to complete complex moves and be graceful while doing them. Caitlin is a mother to two beautiful children: five-year-old Colt, and two-year-old Cora. She hopes they will one day take aerial classes too, and fall in love with aerial like she did. Caitlin works as an Administrative Assistant in the Division of Health Professions at Northeast State Community College.
Lauren Wirick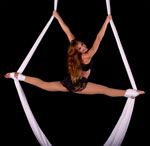 Lauren Wirick has enjoyed performing on stage through dance, drama, singing, and playing instruments since the age of 6. Fulfilling her childhood dream of running away with the circus, she started training on aerial silks in 2010 through Anti-Gravity and Orlando Aerial Arts. Training under artist director, Jennifer Drabik Pierce, her aerial experience expanded through various art forms including lyra, cube, Spanish web, hammock, and aerial partnering and synchro acts in addition to aerial silks. She enjoyed teaching her love and passion in the aerial art form at Orlando Aerial Arts and performing through Suspended Artistry Performance Company professionally for community events, including Give Kids the World, Microsoft, Power-Gen International, and Red Chair Affair. She also enjoyed performing through dance with Central Florida Community Arts. Lauren continues her passion with teaching aerial choreography, lyra, and silks at Night Owl Circus Arts. She loves character performances as well as deep emotional pieces that engage the crowd to feel what she is performing and invite them in to the story she is telling. Lauren has recently added acro yoga to her list of skills and hopes to incorporate this onto the stage as a beautiful art form.
Hana Lee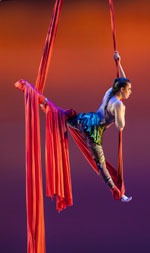 Hana Lee has been taking classes at Night Owl Circus Arts for a year. Her first aerial performance was for the Night Owl Circus in October of 2016, but she is very familiar with the performing arts as she is usually behind the scenes working as a Scenic Designer/Scenic Artist. Currently she works at the Barter Theatre as a Scenic Designer and picked up doing aerials as an exercise program and has come to enjoy it immensely. She says the best part about aerials is the confidence it gives you in all aspects of your life, and the large rippling muscles are definitely a bonus.
Tasha Adams

Tasha Adams recently graduated from East Tennessee State University with a Bachelor's degree in Biological Sciences. She plans on furthering her education by receiving her Doctorate in Veterinary Medicine. Tasha first became interested in silks while attending an aerial performance as a child, so in 2017 she decided to give silks a try. She enjoys the physical and mental challenges while learning aerial silks. In her free time she enjoys writing, working out, and spending time with her cat, Oreo.
Samuel Harrod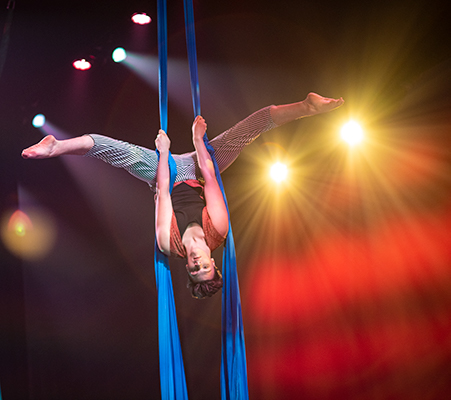 Sam started doing aerial in 2017, and to the fear of his family, has been up in the air ever since. Sam's favorite part of Aerial is learning new skills and exploring character in the air. It has been said that "The dance is a poem of which each movement is a word." Samuel wishes to write sonnets in the air. Being in the air also allows Sam to explore his inner Airbender. When he's not hanging upside down you can find him reading the Bronte sisters novels or taking care of his pets and many plants.
Photography by
Keith Dixon Studios
,
Elissa Wood Photography
,
Amanda and Chad Photography
.