Meet the Night Owls
Craig Lewis
Owner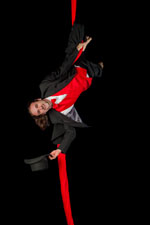 Craig Lewis has been fascinated with circus arts since he taught himself to juggle at age 10. He has since pursued training in aerial arts and juggling through San Francisco Circus Center, Aerial Space in Asheville, NC, and the Aerial Dance program at East Tennessee State University. In 2013, he and Mikaela founded Night Owl Circus Arts in Johnson City, TN, where he enjoys directing performances, and helping people of all fitness levels and backgrounds achieve their goals in circus arts. He serves as the Festival Site Director for the International Jugglers' Association (IJA), and also serves on the American Circus Educators (ACE) Safety Committee. He has a degree in Digital Media from ETSU. He is a professional mobile DJ specializing in weddings, and is also a software developer for CircusDB, his online circus school management software. He is an AcroYoga instructor for the ETSU Center for Physical Activity. He enjoys international cooking, and also helps run a hot sauce business with his beautiful wife Mikaela.
Vianna Isbister
Studio Manager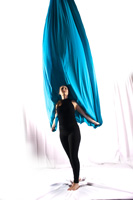 Vianna began training in aerial arts in the summer of 2017 after participating in ETSU's theatrical production of Charlotte's Web. She has trained in aerial silks, lyra, and aerial yoga, along with a smattering of other apparatuses and circus/dance-related techniques. Vianna graduated in 2020 with a Bachelor of Arts in Theatre and minors in Dance and Storytelling from ETSU. Her focus in her dance training has been on dance improvisation, choreography, and aerial dance. She is back at ETSU working on a Master of Arts in Communication and Storytelling Studies. Vianna is passionate about blending multiple performance mediums and uncovering the story that is lurking underneath every piece of art. She is fascinated with blending improvisation into every aspect of life. Vianna enjoys looking at life as though every new opportunity thrown her way is a new opportunity to find a story and create some art. Some other interests include reading everything she can get her hands on (including academic journals), watching excess amounts of Youtube, and tabletop roleplaying games.
Samantha Sander
Performance Company Director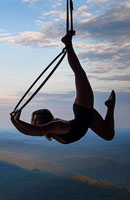 Samantha began her aerial journey back in 2001 (at age 9) at Xelias Aerial Arts, a MN-based studio founded by Ringling Brothers alumni. In 2006, she advanced to coaching students between the ages of 3 and 68. Xelias has instilled in Samantha a sense that safety and proper technique are the most important foundations to build, and she encompasses this in her approach to all different circus disciplines. While she has dabbled in many apparatuses, her favorites to teach are silks, spanish web, lyra, and aerial partner work. She has attended several biennial nationwide American Youth Circus Organization conventions since 2007, as both a student and an instructor. Samantha has trained under and alongside several graduates of esteemed circus colleges and Cirque du Soleil performers. She has also choreographed many circus college and Circus Smirkus auditions over the years, as well as over 100 unique recital performance pieces for students. Samantha's favorite thing about aerial arts is that there are always new challenges and new successes, no matter your experience level!
Caroline Daniels
Assistant Studio Manager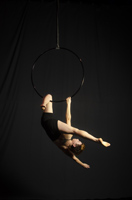 Caroline (they/them) worked at the Edinburgh Fringe Festival four years ago and accidentally fell head over heels in love with circus. Bernie Dieter's Little Death Club was a whirl of lights, music, cabaret, gin, sword swallowing, and the most mesmerizing trapeze act in the world. When they left that tent, awash in after-show glow and high on magic, they knew they had found their passion. When they arrived back home, one of their friends caught wind that they wanted to learn aerial arts and scooped them up, taught them some basic lyra skills, and sent them on their way to the nearest aerial studio. Caroline has never looked back. They have trained in lyra for 4+ years with some forays into acro, sling, spanish web, rope, trapeze, and flexibility. They team-taught beginner lyra at Warren Wilson College, performed a few times with one of their best friends, and created and performed in their own collaborative show — Flying Catastrophe Circus — at the Asheville Fringe Arts Festival in January 2020. Caroline currently teaches at Night Owl Circus Arts and Empyrean Arts. They are working on their second bachelors in theater at ETSU, focusing on production and design. They are also desperately in love with their three cats - Sirius, Quinn, and Bean.
Rachel Broad

Rachel first became interested in Aerial when she had the chance to see a friend's recital in college. She was immediately fascinated by the unique blend of dance and acrobatics in the air and thought it looked like a blast. After moving to the Tri Cities she tried a silks class in 2017 and has been hooked ever since.

Rachel has a masters degree in Linguistics, and minors in Computer Science and Japanese from UNC Chapel Hill. She currently works as a Software Developer and specializes in web development.
Leigh Ann Livingston

Leigh Ann first started aerial silks because she needed a Sunday night workout. She signed up for Craig's silk class and was hooked!! She enjoys the blend of cardio and strength building that aerial arts provides, and it's fun, so it keeps her motivated. She is constantly driven by a desire to learn the many new and beautiful moves that she is taught. She loves all the apparatuses, but her favorite is the lyra.

Leigh Ann is an osteopath, and works as a hospital physician. She has two hyperactive doodles that she tries to keep out of trouble!
Chyanne Gobble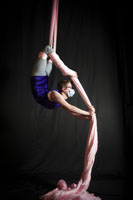 What was once a hobby, is now a lifestyle. Chyanne has been emerged with circus arts- as well as conditioning, flexibility and nutrition. Chyanne loves the artistic side of the circus. Creating art and learning new choreography is addicting! She is also interested in the unique challenges it brings to the mind and body. Health, endurance and creativity are her main training goals. Circus arts gives her a sense of confidence and expression that does not compare to anything else. When not in the studio, she likes studying psychology and philosophy. Her other interests are hiking, reading and roaming through vintage and antique shops.

Chyanne encourages everyone to be adventurous and learn something new each day!
Mindy Woodall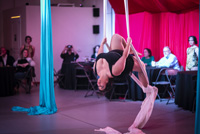 Mindy began her aerial journey in 2014. She took an aerial silks class after seeing a flyer on the ETSU campus. As a theatre student, she had the opportunity to take 2 semesters of aerial dance at ETSU and fell in love with aerial arts. She graduated with a BA in theatre and a BS in chemistry in 2017. She rejoined the NOCA family in 2019 after an extended break to focus on her daughter that was born in 2016. She loves the relationships she's created through the studio and the escape it provides from her day job. She is employed at Nuclear Fuel Services where she is also a part of their emergency response team.
Eva Alom

Eva started dance at age 3 and has been finding ways to keep moving ever since. She graduated from ETSU with a minor in dance and major in International Affairs. During her time as a student Eva found her choreographer voice, creating works that awarded her the Judith Woodruff Award for Excellence in Dance in 2016. Since graduating, Eva has worked with North East State Community College's theatre department choreographing and movement coaching for multiple stage productions. When she isn't busy working with planes and passengers over at Tri Cities airport, she always finds a way to incorporate dance into her life. Eva wants to empower everyone to use their body to tell their unique story!
Jen Kintner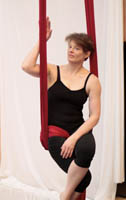 Jen was dragged kicking and complaining to her first dance class, but fell in love instantly, and has been dancing and practicing yoga ever since. She is the Director of Mountain Movers Dance Company, which has been the resident modern dance company at ETSU since 1982. She teaches aerial, modern and dance history at ETSU as adjunct faculty, works full time as a researcher in a Microbiology lab at Quillen College of Medicine, and is the owner of Azure Aerial Arts.

Jen holds a 200 hour certification in Yoga, has trained more than 300 hours with Shiva Rea in Vinyasa yoga techniques and philosophy, and has trained in Jayne Bernasconi's method of aerial yoga. She has 40 years of experience studying, teaching and performing modern dance, and has a foundation teacher training certification in Aerial Fabrics with the New England Center for Circus Arts. She also has a Masters degree in pharmacology and toxicology, just for fun!
Rebecca Steele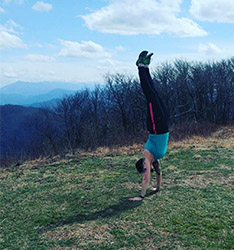 Rebecca has always been interested in gymnastics, but didn't get the opportunity to take classes until October 2015. She has been attending weekly classes since then, and absolutely loves the diversity and challenge that the adult tumbling class offers. She currently has a BS in Sociology, and is working towards a Master's degree in Biology, studying circadian rhythms in cave spiders. She also works full-time at ETSU Quillen College of Medicine as a Laboratory Coordinator in the human gross anatomy lab. Hobbies include hiking, caving, and camping, as well as reading, and science.
Katie Duvall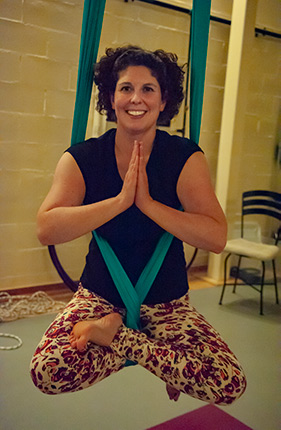 Katie began her yoga journey in the East Tennessee State University Mini Dome many years ago with Jen Kintner. She loved both the challenge and peacefulness a vigorous vinyasa class brought. About three years ago Katie made her new year's resolution to try one new experience per month that put her out of her comfort zone. That year's April out of the comfort zone experience was an aerial yoga class at Azure Aerial Arts Studio. Since then she's embraced the aerial life and become an aerial yoga instructor.
Katie has a Master' degree in Professional Communication, is an Appalachian and women's health scholar, and works as the Research Services Manager at the Department of Pediatrics at East Tennessee State University's Quillen College of Medicine.
Mithra Alavi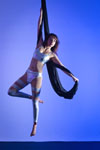 Mithra has been practicing aerial acrobatics and yoga separately for the last 6 years. She decided the perfect way to combine them by was to teach aerial yoga. Mithra furthered her practice by studying and receiving her aerial yoga certification through Levity Aerial Yoga. Her love of flow, teaching, and her constant need to be in the air make aerial yoga the perfect practice for her.
Devorah Daught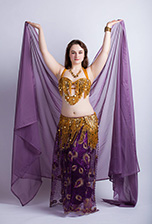 A life-long dancer, Devorah fell in love with belly dance at age fifteen and has been obsessed ever since. She has now been studying the art form for over eight years and continues to learn everything she can about it. Her studies have included training with local and regional instructors and workshops by nationally and internationally known professional dancers. Devorah specializes in the glamorous and enchanting American Cabaret style of belly dance and loves drawing inspiration from vintage stylizations. She also enjoys dancing folkloric forms and creating theatrical performance pieces. Passionate about all types of dance, she has experience in ballet, modern, contemporary, and jazz. Devorah (as her dance alter ego Devorah Shirin) has performed both locally and regionally at dance showcases, festivals, fundraisers, restaurants, and parties. Highlights include "Raqs Layali" in Asheville, NC, under the direction of Mahsati Janan, and Bloom in Charlotte, NC, hosted by Satarah Performance Arts. Devorah also holds RYT-200 Yoga Teacher Certification. She is currently on a journey to become a clinical mental health counselor and dance/movement therapist.
Tasha Adams

Tasha Adams recently graduated from East Tennessee State University with a Bachelor's degree in Biological Sciences. She plans on furthering her education by receiving her Doctorate in Veterinary Medicine. Tasha first became interested in silks while attending an aerial performance as a child, so in 2017 she decided to give silks a try. She enjoys the physical and mental challenges while learning aerial silks. In her free time she enjoys writing, working out, and spending time with her cat, Oreo.
Lydia Tewksbury
Lydia is an aerial artist specializing in lyra; incorporating nature's elements, mystical hand-crafted costuming, and storytelling into captivating performance pieces. She began her circus training in 2016 and has had the delight of learning from artists all over the United States including Waverly Jones, Dream Frohe, and Jenn Bruyer. While lyra is her longest lasting love, she has joyfully forayed into silks, sling, lyra moon, lyra doubles, pole, stilt walking, and dance.
Lydia has choreographed and performed with Asheville Aerial Arts, Empyrean Arts, Flying Catastrophe Circus, and Warren Wilson Circus. She also makes time to create her own work including "The Veil is Thin," a circus short film. As a woman living in extremes, her wardrobe is composed of velvet, glitter, flannel, and double-layer canvas in order to dance through the world as a circus artist and axe-throwing coach with a B.S. in Forestry. A bean enthusiast, she is rarely without a crockpot of black beans and a hot cup of coffee.
Wil Rhew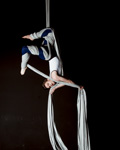 Wil began studying aerial arts when a friend recommend the classes after having taken a course in silks at their local university. Having interests in arts and athletics, he gave the classes a try in the summer of 2017. Wil finds technique, strength, and body awareness to be the most in intriguing aspects of movement arts but also the most difficult to master. Wil is now a full-time, Los Angeles-based aerialist and dancer. He loves to share his passion of performing and offers classes and workshops to students of all ages. Wil encourages everyone to give aerials a try and be adventurous! Outside of the studio, Wil enjoys studying languages and earned his bachelor's degree in foreign languages in 2016 from East Tennessee State University.
Danielle Myers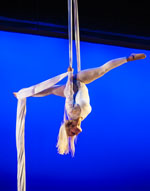 Danielle has been doing aerial silks for almost five years, and she's completely in love. The thing that drives her passion for silks the most is the physical challenge, but she also enjoy the mental challenge that comes when you're trying to put together a sequence. As a former competitive cheerleader, she learned that to push herself physically. Since growing out of cheer, silks has been the perfect thing to fill that void, and has given her something that she can look forward to doing for the rest of her life.
Photography by
Keith Dixon Studios
,
Elissa Wood Photography
,
Amanda and Chad Photography
.