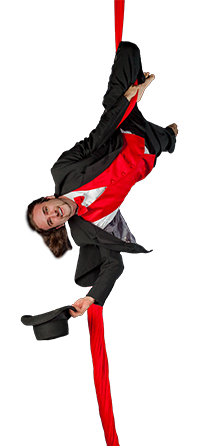 About NOCA
Craig has been fascinated with circus arts since age 10 when he taught himself to juggle from an instructional book. In 2007, he began his Bachelor's degree in Digital Media at ETSU, where he founded the ETSU Juggling Club. With the club, he began attending regional juggling conferences and festivals to further his knowledge of juggling. In 2009, he began his training in aerial arts at San Francisco Circus Center, and in 2010 he continued his training at Aerial Space in Asheville under Andrew Hartnagle and Blue De Leeuw, and also participated in the ETSU Aerial Dance program. After several years of training, he became an instructor at Aerial Space, and a performer with Asheville Aerial Arts.. In March of 2013, Craig completed the Nimble Arts Aerial Teacher Training program with Elsie Smith and Jamie Hodgson.
Mikaela has been fascinated with the funny, little fella named Craig since 2010 when she met him in a Photoshop class. After graduating with a Bachelor's of Science degree in Digital Media, Mikaela went on to work on her Master's of Arts in New Media. During that time, Craig and Mikaela were engaged and began working together to build a new company venture. Mikaela is a professional designer, marketer, and Craig's support system who handles much of NOCA's behind-the-scenes work.
Craig and Mikaela Lewis founded Night Owl Circus Arts (formerly Johnson City Circus Arts) in March 2013. Together they created the first public aerial arts studio and training program in the Tricities area. The company began with just a few beginner silks classes a week, but quickly expanded to accommodate high demand.
Over the years, as NOCA grew, we experimented in partnerships with several venues. Tuco O Tapa in 2013, Appalachian Stars Gymnastics in 2014, and Kingsport Flight Athletic Academy in 2017 all contributed greatly to our growth. In 2018, we formed a mutually beneficial partnership with Azure Aerial Arts, where we now offer many of our classes. Today, Appalachian Stars Gymnastics in Boones Creek, and Azure Aerial Arts near ETSU serve as our two locations.
Today, Night Owl Circus Arts LLC has many amazing instructors, two locations in Johnson City, and offers classes seven days a week for all ages and skill levels. We've expanded from silks to now offer classes like Lyra, Aerial Yoga, AcroYoga, Tumbling, Spanish Web, Pole, and more. We have a performance company that does private events, and several public performances per year. We have worked with Barter Theater and Jonesborough Repertory Theater to coach circus arts for several professional stage productions.
NOCA has a partnership with the Viriginia Highlands Festival. Once a year, NOCA presents our large annual student performance as part of the Virginia Highlands Festival at the beautiful McGlothlin Center for the Arts at Emory and Henry College near Abingdon, VA. This provides our students with an excellent opportunity to work on a stage production in a large, modern proscenium theater, and to create a stunning performance that can be enjoyed by all!
At NOCA, we believe circus arts should be fun, safe, and accessible for everyone. We want to share this amazing art form and workout with you! We offer classes for all ages, fitness levels, and body types. Our classes have small size limits so that we can give students individual attention.
Our students have extremely diverse goals and backgrounds. Many students come to us with the goal of simply having fun, building strength, and improving their overall fitness. We encourage people of all fitness levels to experience the joy of hanging upside-down, noodling around, and making pretty poses on the silks! We also work with some students who aspire to be professional performers, and we're thrilled to help them achieve these goals!
NOCA is a safe space. We're passionate about fostering a supportive, diverse, body positive, LGBT-friendly community.
The NOCA Handbook comprehensively lays out all rules, policies, and expectations for all members of the NOCA community.
NOCA In the Press
A! Magazine for the Arts
A! Article link:
Johnson City Circus Arts dances in air
Tricities Healthy Living
Healthy Living Link:
Fantastic Fitness
Dance Tribune
Community Support Helps Night Owl Circus Arts Through Continuing Temporary Closure
Rhew Gives "Joining the Circus" New Meaning
WJHL
Learning the Circus Arts of Juggling & Aerial Silks
January 2014
Johnson City Circus Arts
December 2016
Night Owl Circus Arts
July 2017
JC Circus Arts rebranding, expanding to downtown Kingsport
January 2017
Our Performance DVDs on Amazon:
Special Thanks To:
In no particular order
Andrew Hartenagle, Blue De Leeuw, Valerie Phillips, Savannah Willingham, and all the instructors of Aerial Space in Asheville
Heather Poole and Waverly Jones of Empyrean Arts in Asheville
Jake and Lisa McLeod of DragonFly Aerial Arts in Knoxville
Christine Aiken of Asheville Aerial Arts.
Tina Cohan, Jerry Cohan, Dulci Miller, David Miller, Ciera Miller, and Seth Delatte of Appalachian Stars Gymnastics
Keith Dixon of Keith Dixon Studios
Victoria Cunningham of Flight Athletic Academy
Ren Allen of Faces by Ren
Brenden Bohannon of Tuco o Tapa
Jen Kintner
Becky Caldwell, Shana Carrico, and Diedre of the Virginia Highlands Festival
Will Hankins of the McGlothlin Center for the Arts
Jessica and Jesse Shelton of Appalachian Stewards Realty
Lauren, Abby, Kayla, Caitlin, Wil, Jenna, Stephanie, Seth, Samantha, Caroline, Vianna, and all of the NOCA instructors