Class Descriptions
Not sure where to start?
Aerial Silks
,
AcroYoga
,
Aerial Yoga
, and
Tumbling
are all great beginner-friendly classes to start with! All of our aerial classes are capped off at either 5 or 6 students. This small size limit allows us to work with each student individually, and at their own skill level. We have classes for
all
ages, fitness levels, and body types!
Aerial Silks
These are our most popular classes for new students. Our instructors work individually with each student and adapt to their level of strength and comfort. In this class, you will learn many movements in the silks, and in doing so, increase your upper body strength. But you'll be having so much fun, it won't feel like you're working out! We work over an 8-inch crash mat at all times, and all beginner moves are done low down to the ground. The core goals for this class are to be safe, and have fun!

The classes labelled as "Beginner Silks' are exclusively for beginners, while the class labelled as "Aerial Silks" are open to all levels, including first-timers through advanced students. Classes labelled "Int/Adv Silks", "Intermediate Silks", or "Adv Silks" are exclusively for intermediate or advanced students who have begun working on drops, and have trained at NOCA before. If you have significant previous aerial experience from another studio, give us a call before signing up.

This class is open to ages 13+, but the majority of our students are college aged and older. For students under age 16, parents must remain present throughout the class.
---
Beginner Aerial Series
Saturdays, 11 AM, June 2nd - Aug 25th, 2018, at Azure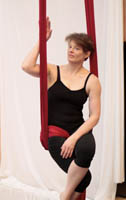 This class is a 13-week beginner aerial series being offered by Jen Kintner at Azure from June 2nd through August 26th, 2018. This class is designed to take students through the entire beginner silks syllabus. Students will build strength and knowledge in a steady manner over the 13 weeks of the series, learning good alignment, gaining greater understanding of each move, and executing moves with a deeper understanding of how various wraps, bights and hitches function. No experience is required.


What is a series class and why should I take it?
A series class is designed to teach you a set of material that allows you to build your strength in a logical, progressive manner, teaches you a set syllabus of moves, and allows each student to progress at their own pace. The concept is to allow you to build a very solid
base
of strength, technique, and knowledge. You will be with a group starts out together, and takes the entire journey together. We do not generally allow people to start half way through the series, so your class is truly progressive. Everyone starts as beginners, and leaves having completed a common curriculum together.
Think of this like a semester-long college class. In this context, you and your peers will naturally become very dedicated to the work, build a lot of strength, and learn the material in a profoundly deeper way than you would by taking sporadic, drop-in classes. So, are you ready to up your game? Ready to commit? Ready to have FUN?
These classes cannot be made up, and class credits cannot be used for other classes. All payments for this series are non-refundable and non-transferrable. If your schedule tends to be unpredictable, we might recommend drop-ins instead of a series class! However, the per-class price on the series class is cheaper than our drop-ins, which means you can miss a class or two and still feel like you are getting a good value.
The price for this series is $169 paid up-front for the entire 13 weeks. This comes to $13 a class! For students who have an Unlimited Class Monthly Subscription ($145 / mo), you can join the Beginner Aerial Series at a discounted price of $91. This is just $7 per class! Your unlimited subscription MUST remain active throughout the 3 months of this series.
This class is open to ages 13+, but the majority of our students are college aged and older. For students under age 16, parents must remain present throughout the class.
Deadline to register is May 29th.
Sign Up Now
---
AcroYoga
AcroYoga is a form of partner acrobatics that is fun and accessible for anyone! It combines elements of yoga, acrobatics, and thai massage. No experience is required, and you don't need to come with a partner. We work in groups of three: A base, a flyer, and a spotter. We make sure that everyone gets the opportunity to try all three of these positions with each move, and we usually shuffle the groups up randomly throughout the class. This class involves physical contact, so good personal hygeine is a requirement. Open to ages 15+.
---
Aerial Yoga
Aerial Yoga is a relatively new approach to a traditional yoga practice. We use a the fabric to support the weight of our bodies, helping us achieve various postures with more depth, ease and excitement. By relieving 20-80% of body weight, the hammock allows students to rapidly increase their flexibility while improving balance and core strength. In doing so, students are able to reach more advanced yoga poses if desired, like inversions, offering improvements in health and vitality. In addition, the silks are used as wraps on our bodies that gently massage. No aerial experience is required. Open to ages 13+.
---
Lyra
Lyra, also known as "Aerial Hoop" is a large steel ring resembling a hula-hoop, suspended from the ceiling, on which aerialists can perform. This class requires you to be able to consistently perform an inversion on the silks from off the ground before taking Lyra. Talk to your silks instructor about this if you're not sure if you're ready. Open to ages 13+.
---
Choreography
This class is focused on taking the moves you learned in our other classes, making them look pretty, and then putting them together into a choreographed routine with music and character! This class brings in elements of This fun class is recommended for people who already have a couple of aerial classes under their belt - talk to your aerial instructor first about meeting the pre-reqs for choreography. Open to ages 13+.
---
Tumbling
Beginner tumbling classes for adults can be surprisingly difficult to find, but this class is specially for adults! It's intended primarily for beginners, but accomodations can be made for intermediate/advanced tumbling students. For beginners, this class starts with exercises to help you achieve or perfect your handstands, cartwheels, and round offs. As students progress, the class covers back handsprings, back tucks, walk-overs, aerials, and much more! This class uses the spring floor, fiberglass rod floor, tumbling track, and foam pit. Open to ages 15+. This class is brought to you by a partnership with Appalachian Tumbling and Gymnastics.
---
Flexibility
This class is designed for every body, regardless of age and skill level. It is not necessary to have any aerial experience to take this class. We work on flexibility from several viewpoints, including pilates and various dance styles. Flexibility and beginning contortion exercises include backbends and splits, as well as many exercises that will strength and lengthen your muscles. This class is tailored to fit the individual students' needs, and the topic will change from week to week.
---
Aerial For Kids
Aerial Silks are a great way for students to increase strength and dexterity while having tons fun! They will get to climb, spin, hand upsidedown, and noodle around in the silks, all while learning new skills. We work over an 8-inch crash mat at all times. The core goals for this class are to be safe, and have fun!

Open to ages 7-14. We prepare a customized lesson plan for every class that we teach based on who is signed up. Because of this, it is a strict requirement that all kids are paid and signed up for their class online at least 12 hours before this class. We unfortunately cannot take walk-ins, or last minute signups in the kids class. Parents must remain present throughout the class.
---
Juggling
Juggling classes for adults are available by request. We often have casual juggling practice time during Open Gym, and we're happy to teach beginners! This is free! Just call ahead and let us know if you're coming to Open Gym to juggle. Open to ages 15+. We offer private lessons in juggling for adults, or kids aged 7+. We can also help you plan trips to amazing regional juggling festivals and conferences, including the Atlanta Groundhog's Day Juggling Festival, the International Jugglers Association Festival, and the Asheville Juggling Festival! Attending one of these events is truly the best way to learn about the art of juggling!
---
Open Gym
Open Gym is a time for students to come in and practice moves that they've been working on in class. An aerial instructor will always be present to oversee safety, and provide spotting if needed, but they will not be teaching during this time. Students are prohibited from teaching each other during this time. Attempting moves that you have not been taught in person by an aerial instructor is also prohibited. If you want to use the aerial equipment during open gym, you must have taken an aerial class within the last month, or have special permission from an instructor. A trapeze and corde lisse are also available, but since we don't offer classes for these apparatuses, instructor permission is required. Open to ages 15+. Children under 16 must be supervised by a parent. All aerial class packages come with one free open gym credit.
---
Private Lessons
Private lessons in any of the skills listed above are available. If you're really serious about perfecting your skills and taking them to the next level, private lessons are an incredibly effective way to achieve that! Cost is $65 per hour, and this can be split by up to 4 people. Past 4 people, each additional person adds $12. Call us to talk about your class goals, and scheduling before you purchase private lesson credits.